A scientific approach to hospital cleaning
Hospital cleaning is of utmost importance, especially in areas used by the most vulnerable patients.
Around 30 people a day are treated for advanced kidney disease in the outpatient hemodialysis unit of Bolnišnica Sežana. Kidney dialysis treatment involves manually filtering the blood to remove impurities, and the people who are treated in the hemodialysis unit often face extra challenges.
"Patients who are on replacement therapy are immunocompromised," explains Dr. Viktor Švigelj, senior counselor and specialist in neurology and intensive care, and the facility's Scientific Director. "Because of their comorbidities, spreading microbes between them is very dangerous – even those which are not usually dangerous [to a healthy person] can become dangerous."
Since multiple people rotate through the unit in a single day, it is essential that the space can be rapidly sterilized to a high standard. The Bolnišnica Sežana team relies on "Bob": Viktor's name for a BlueBotics mini™ UVC autonomous disinfection robot. After completing dialysis, the room is cleared of patients and staff and Bob destroys 99.99% of pathogens in as little as five minutes.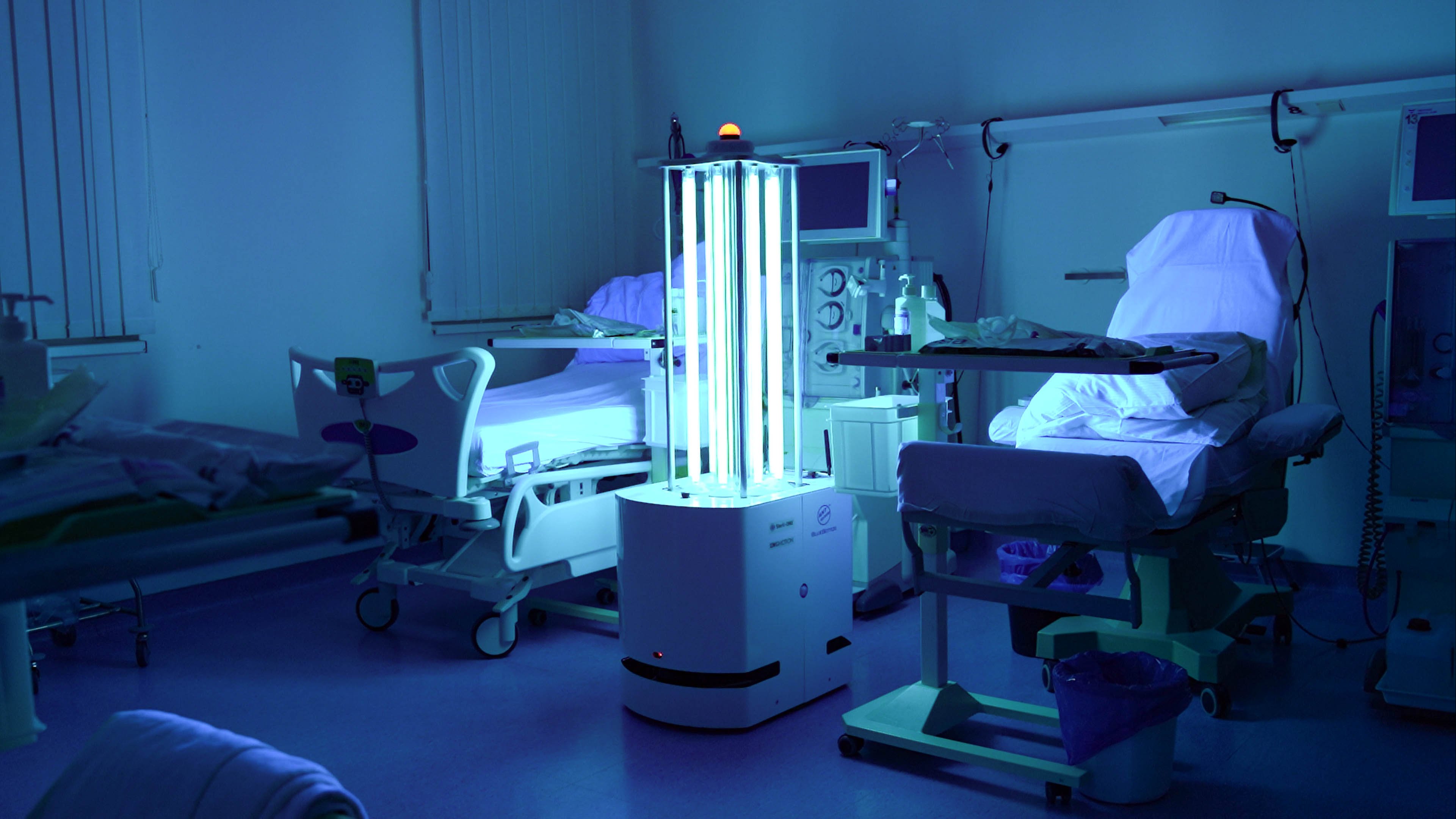 How UVC light works
"UVC light is germicidal," explains Dr. Švigelj. "It damages the DNA of bacteria, viruses, and other pathogens and destroys their ability to multiply and cause disease."

UVC (ultraviolet light C) is naturally present in sunlight, cannot move through walls or glass (so people can work safely in adjoining rooms), and dissipates instantly (so it's safe to enter a space as soon as the mini™ UVC is switched off).

The mini™ UVC is a mobile robot equipped with powerful UVC lights. This ensures that the light will reach every part of the room and that no "shadows" are missed.

Dr. Švigelj continues, "UVC light is a strategic weapon in the fight against infection. The robot can work anywhere at any time without staff intervention. The robot is safe and easy to use. And it cleans every corner of the visible part of the floor without using any irritating or toxic chemicals."


Meeting staffing challenges with automation
Like hospitals around the world, Bolnišnica Sežana can sometimes struggle to find and retain staff. Europe faces an estimated shortfall of two million healthcare workers – from doctors and nurses to cleaners and administrators. The mini™ UVC relieves some of the pressure on Bolnišnica Sežana's 180 staff.
"You don't need staff to be present [to sterilize the space]," explains Dr. Švigelj. "You just push the button on the computer."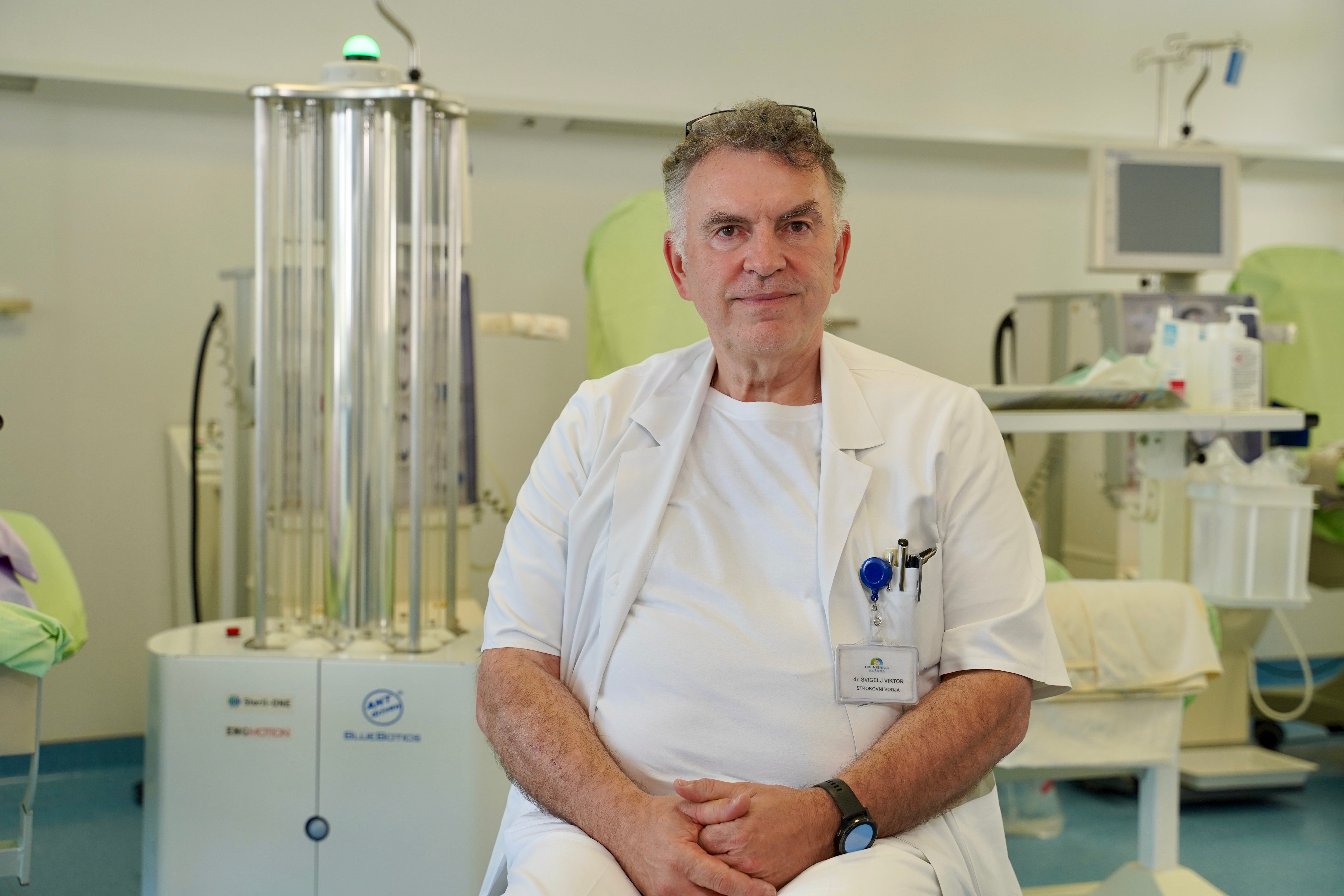 "In the past, we cleaned the room manually with detergents, which are sometimes toxic or irritative," continues Dr. Švigelj. During the COVID-19 pandemic, the cleaning process included hydrogen peroxide steam. While effective, this method was both irritative and potentially dangerous to patients and staff. "You can't come into a room for at least two hours after using hydrogen peroxide steam," Dr. Švigelj explains.
Wall-mounted or free-standing UVC lamps were also used, but these had their own issues. Wall-mounted lamps may not clean as effectively if an object obscures the rays of light. Free-standing lamps must be managed by a staff member, a time-consuming process of waiting for a lamp to complete its cycle so it can be moved into a different position.
Counting the cost of healthcare- acquired infections
Healthcare-acquired infections (or nosocomial infections) affect an estimated 10% of patients admitted to hospital and 20% of ICU patients. Patients with nosocomial infections spend an average of 2.5 times longer in hospital. In the UK, healthcare-acquired infections result in 5,000 deaths each year and cost the National Health Service one billion pounds.

It is estimated that a third of nosocomial infections are preventable. Cleanliness, including handwashing and general cleaning, is the best and only prevention against healthcare-acquired infections.

"You can kill all those germs which cause nosocomial infections, any kind of infections, by using the mini™ UVC," says Dr. Švigelj.


Autonomous disinfection in a complex environment
Like all hospitals, Bolnišnica Sežana is a complex space, with beds (and patients) moving in and out. Thanks to the BlueBotics ANT navigation that drives the mini™ UVC, the robot "knows where it is" at all times by referencing permanent features in the environment, such as doors and walls.
Virtual routes are programmed in the robot's ANT lab software to cover the entire area. For example, in the hemodialysis unit, the mini™ UVC disinfection robot pauses between each bed, at the reception desk and also in the middle of each ward. This ensures that the powerful UVC light can reach every part of each space.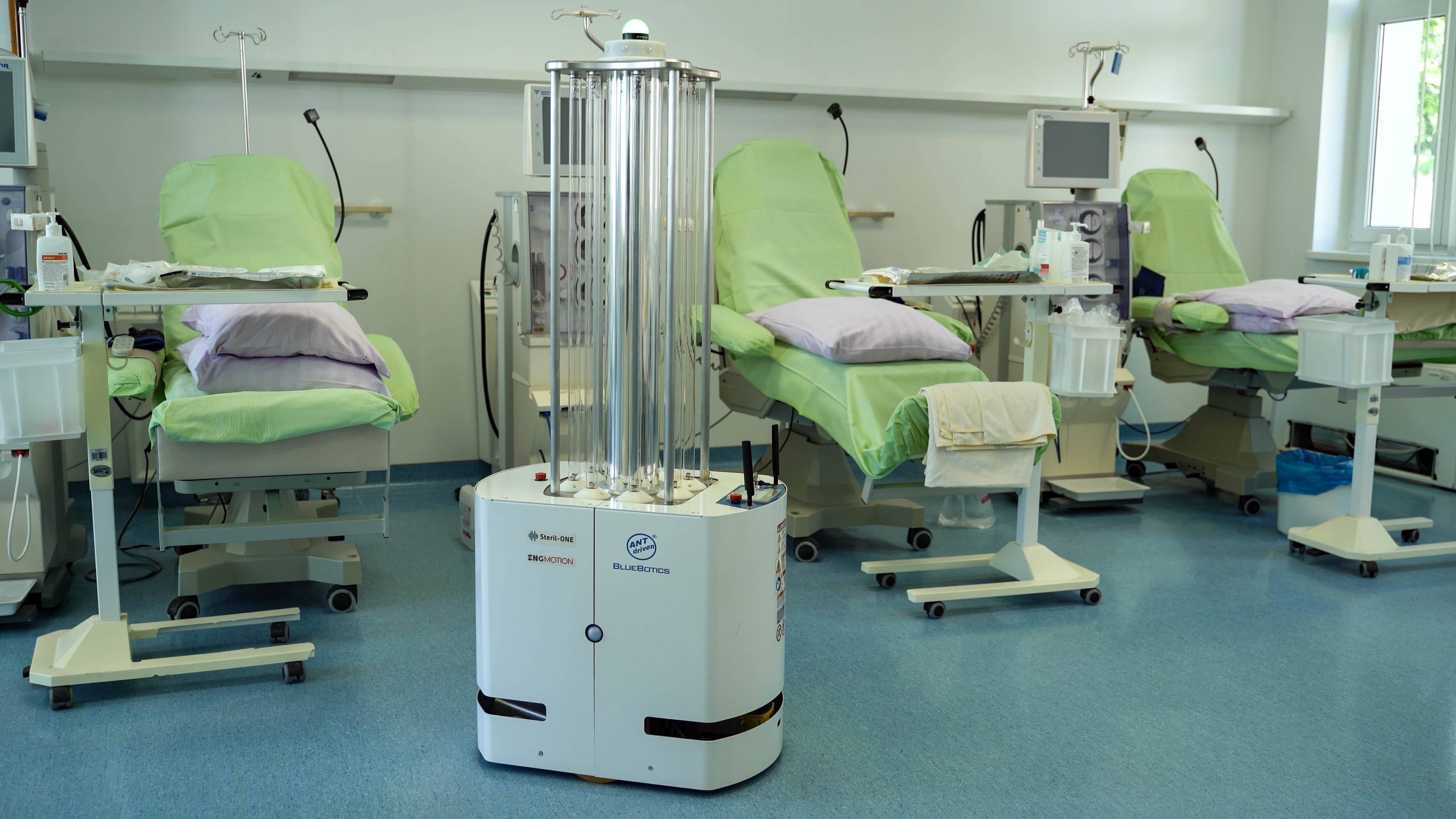 "You just program the computer and the robot goes around whenever you want and disinfects for as long as it is needed," Dr. Švigelj explains.
The mini™ UVC can clean autonomously for up to four hours. After completing a sterilization cycle, it will then automatically return to its charging station.
Living with the new normal: preventing the spread of COVID-19
People requiring kidney dialysis need to access care even if they have COVID-19. As these patients must attend the hemodialysis unit in person, the focus is on preventing the spread of COVID-19 within this unit. The mini™ UVC plays a key role in this prevention.
The SARS-CoV-2 virus which causes COVID-19 can survive on common surfaces long after a sick person has left the area. The virus can live on stainless steel and plastic for up to four days, and on glass for two days, so effective sterilization is essential to prevent transmission.
"The COVID-19 pandemic increased demands on disinfection of the haemodialysis unit, putting additional strain on staff and processes. The UVC robot has solved this challenge for us and is more effective at covering surface areas that were commonly missed using traditional cleaning processes," comments Dr. Švigelj. "It reduces cleaning costs and increases safety. Plus, it is very flexible and easily programmed on a computer - you only have to map out its mission on the floorplan, and the robot does the rest."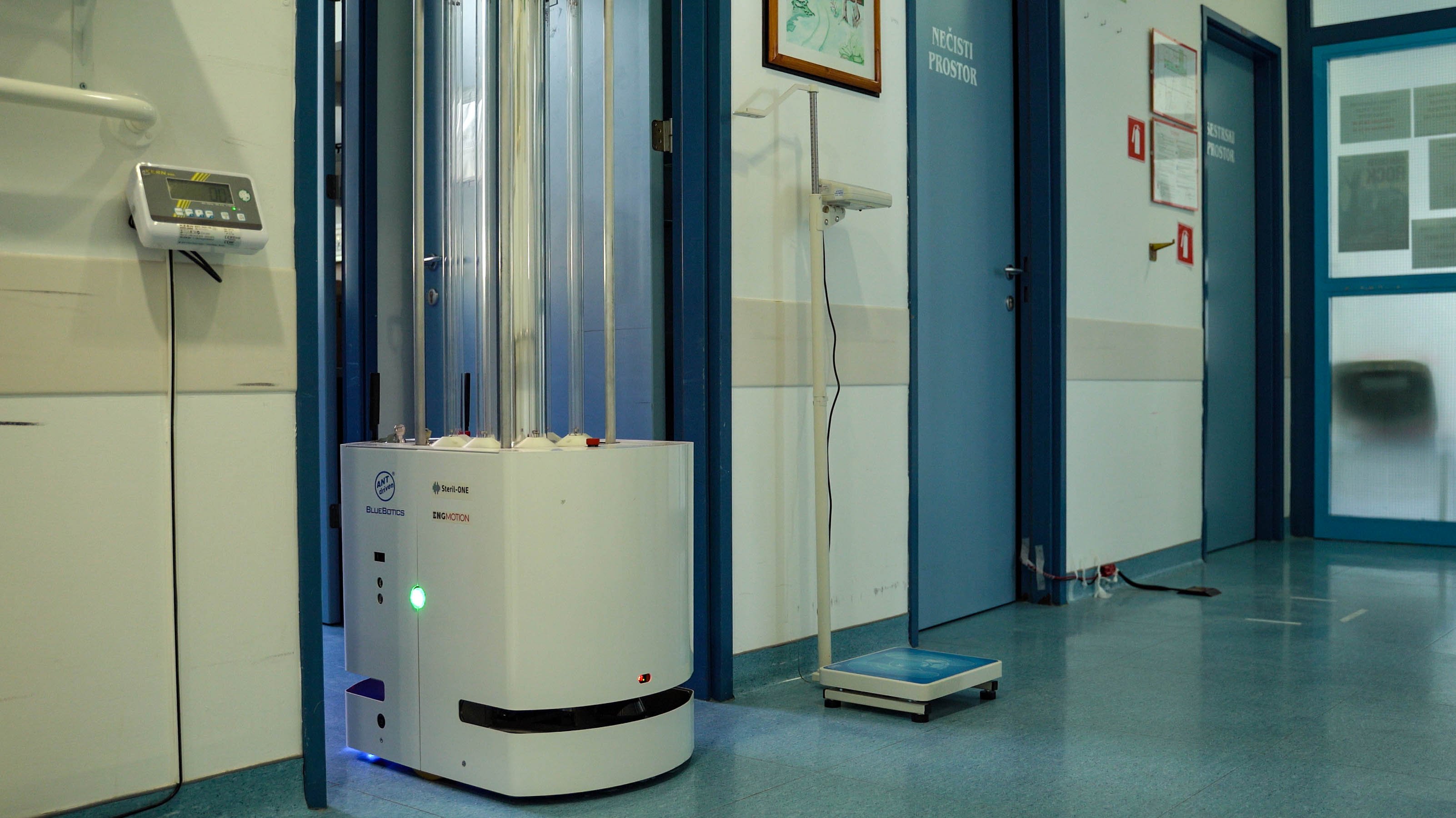 Meeting future challenges with UVC
Despite vaccination efforts, the COVID-19 pandemic is still with us, and as the Center for Global Development warns, we may be entering a "poxed century": a new age of pandemics wrought by climate change and increased global mobility.
Healthcare-acquired infections (or nosocomial infections) are both common and immensely costly. And they are likely to become more prevalent as more and more bacteria develop antibiotic resistance.
Dr. Švigelj concludes, "The problem of infection control in hospitals manifolds because many of the micro-organisms that cause outbreaks, such as MRSA, are resistant to antibiotics. So, we need to find ways to prevent the spread of these infections at their source. A product like the mini™ UVC offers a straightforward solution that is quick and easy to implement and use."