Every year, around 180,000 trucks of all kinds – from firetrucks to semitrucks – roll out of Sinotruk's Laiwu factory. One of the final steps in the manufacturing process is inspecting the paint of a truck's cab before it hits the road.
While not much thicker than a human hair, automotive paint can dramatically cut down on maintenance and make a material difference to the lifespan of a vehicle. That's why controlling for the correct application of paint is a crucial step before the truck cab leaves the facility.
The paint job of every truck cab is carefully checked, although only a small percentage of vehicles needs extra attention. EcoProFleet paint shop AGVs by Dürr move cabs in and out of spot repair boxes as needed, ensuring every vehicle has a robust coat of paint before leaving the facility.
Project details: Paint shop robots
"Breaking the line": automation in automotive production
The line production has been the gold standard of automotive manufacturing for over a century. But while efficient, lines are also prone to bottlenecks: one interruption at any point in the line can cause a cascading series of delays. The facility's Dürr AGVs allow the Laiwu team to "break the line", moving truck cabs in and out of the line without causing bottlenecks.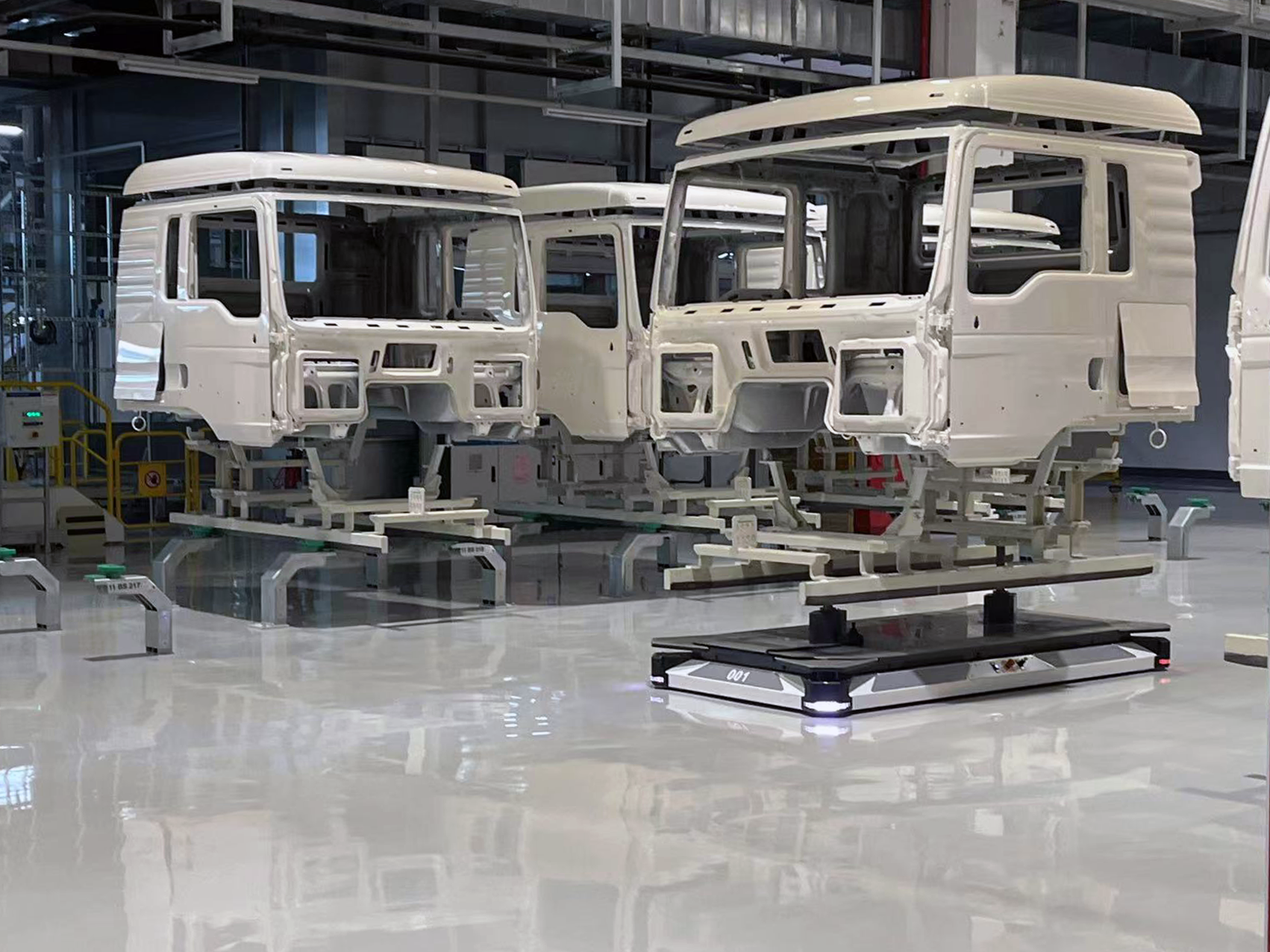 "We look at matrix production versus line production," explains Stefano Bell, product manager at Dürr Systems. When examining how many vehicles could be produced in total, rather than at what speed they roll off the production line, "AGVs allow a lot more flexibility."
This flexible approach is aligned with "no fault forward" manufacturing strategy. Production is checked at every step, and anything that needs extra attention is dealt with before moving to the next stage of manufacturing. In the case of Sinotruck, almost-complete truck cabs roll along a conveyor and are manually inspected. If a worker sees that part of a paint job needs attention, they simply press a button next to their station. This summons an EcoProFleet AGV to remove the cab from the line and shift it to a parking area, without interrupting the overall production flow.