"You may have tried our chocolate," says David Baumann, Logistics Team Leader at Delica. "It's served all over the world when you fly Swiss."
As well as chocolate, the Delica factory produces chewing gum, coffee and other goodies. The wide offering necessitates a large facility with long material flows. One route in particular – from production to the logistics storage facility – takes a loaded forklift a full five minutes to travel. It's the definition of a dull job, and one which Baumann and the team were excited to automate.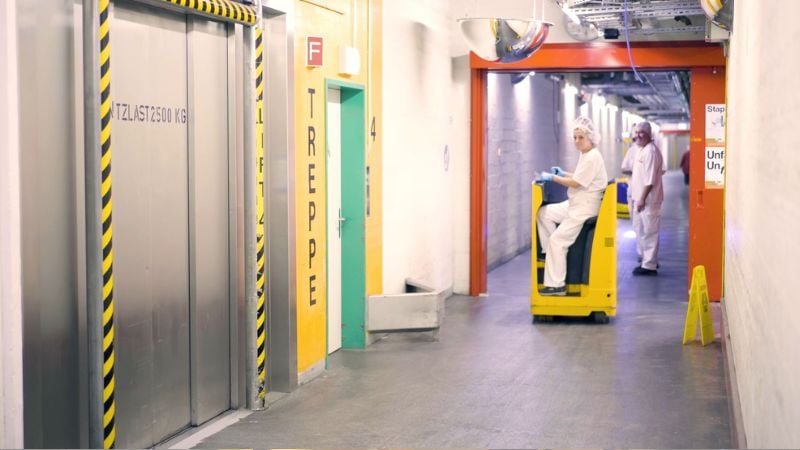 "The task of moving the pallets is simple, but it was taking a lot of time. We felt it was a waste of our human resources and looked at the options available to automate the process."
"The task of moving the pallets is simple, but it was taking a lot of time," says Baumann. "We felt it was a waste of our human resources and looked at the options available to automate the process."
The answer came in the form of an Eagle-Ant 1 by Stöcklin. Watch the video:
Project details: Material Handling Automation with a forked AGV
Smoothing material flows
"It works as follows," explains Baumann. "We have sensors installed in the storage locations. When production places a pallet there, the sensor recognizes this and it triggers a mission for the AGV. The vehicle picks up the pallet and then brings it to us in logistics."
The journey between production and logistics takes around five minutes - an ideal place to introduce material handling automation. The Eagle-Ant moves through an automatic door, enters an elevator, and travels down a corridor to the logistics area.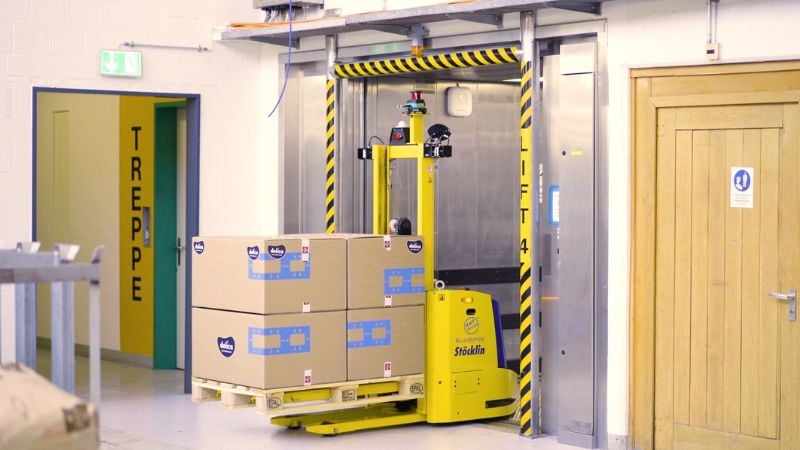 "In logistics too, the places are monitored with sensors so that the system always knows whether there is still room to place a pallet. And it all works fully automatically. Before we used the AGV, we moved this material flow manually by having an employee fetch the pallets with a forklift."
Like most facilities, the Delica production plant was not built with material handling automation in mind. The narrow aisles and especially the elevator caused some issues when selecting a vehicle. "We had tested various suppliers, but most of our demanding requirements could not be met. That's why we chose Stöcklin," explains Baumann.
"We had tested various suppliers, but most of our demanding requirements could not be met. That's why we chose Stöcklin."
"The Eagle-Ant is a vehicle that is purpose-built as an AGV: it hasn't been converted from a manual vehicle. As a result, it's quite small and can move well in narrow aisles." Baumann continues: "And it also has the ability to ride into an elevator. That was crucial for us, since it was a killer criterion that the lift had to be passable."
Entering an elevator sounds simple, but the small lip and gap between the floor of the elevator and the floor of the facility was enough to throw off the navigation of many systems. Because the Eagle-Ant 1 is ANTdriven, it is able to navigate this challenge with ease – with a scant couple of inches to spare. The Eagle-Ant exactly fits in the elevator, an advantage over other forklift AGVs.
When a completed pallet of goods is ready in the production area, it triggers a sensor in the ceiling above. The Eagle-Ant picks it up. In the logistics area, further sensors indicate where the pallet should be deposited.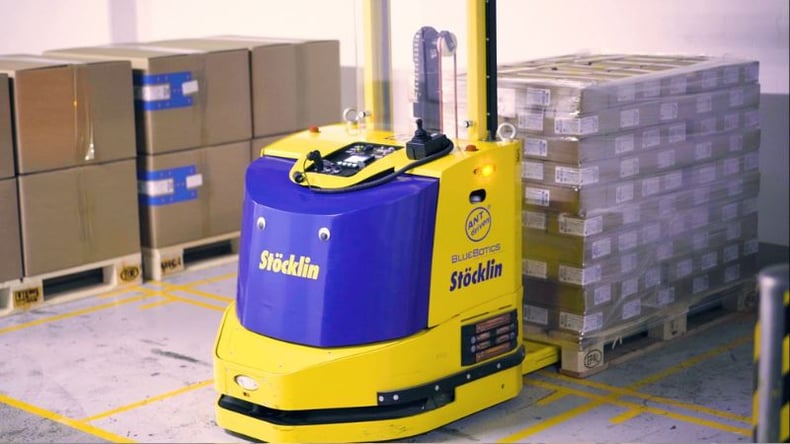 Added challenges: Automation in food production
A food production facility like Delica has very strict hygiene requirements. This means that some automation systems are inappropriate or prohibitively difficult to install.
For example, traditional automated guided vehicles follow lines in order to navigate. This may mean ripping up flooring to install magnetic wires: in a food production environment, this may necessitate stopping production to prevent the risk of dust being introduced into the product.
However, ANT navigation from BlueBotics uses the vehicle's built-in safety laser scanners to navigate. There's no need to make permanent changes to the environment: at most, some reflective stickers may need to be added.
Baumann explains: "We didn't have to stop production or anything. We were able to continue working normally."
And if the system changes in the future, adding a new route can be done in a handful of clicks.
"The navigation system was also a very important point for us as we don't want to do any major structural work, so the navigation system had to be very easy to integrate," says Baumann. "We have found a very good solution with BlueBotics that we can also open up other material flows without much effort."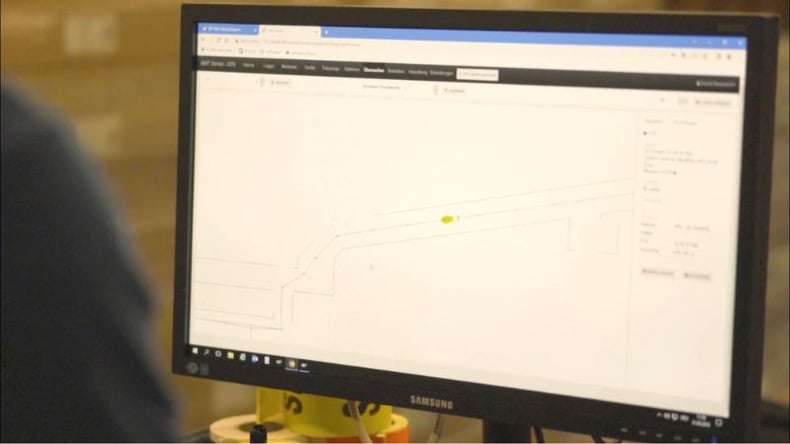 The installation was done with the help of Stöcklin. "They supplied us with all the hardware and we installed it ourselves. And afterwards, for the fine adjustment and also for the programming of the routes, Stöcklin was here in the house for a few days and programmed it directly on site," says Baumann.
An automated answer to a manual pain point
In the Delica facility, production and logistics are separate entities. Production runs 24 hours a day, seven days a week, but the logistics team does not typically work during the weekend. This means a large backlog of product needing to be shifted every Monday morning.
The Eagle-Ant 1 solved this issue, moving the product night and day from production to logistics.
Baumann explains: "The biggest impact that we notice is the workload on Monday morning, since production works on the weekend and we now come on Monday morning and there aren't that many pallets that we have to transport. That means we can use the manpower for other work."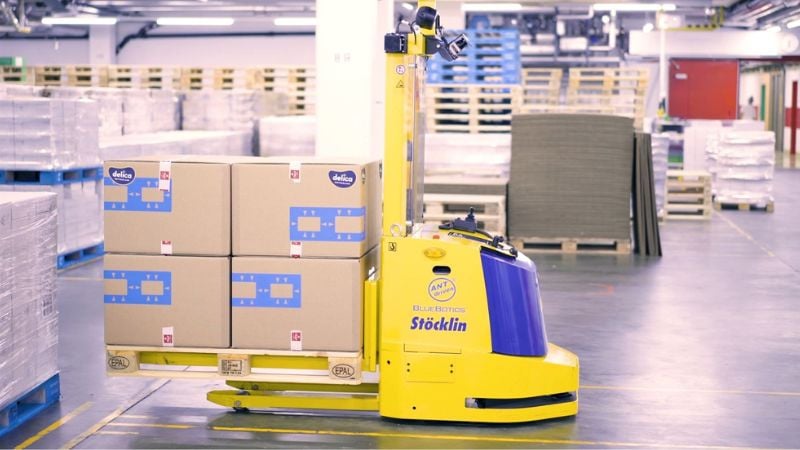 Working together: a forklift as a cobot
There's often concerns that (human) staff may not accept automated vehicles. But the Eagle-Ant 1 has been welcomed to the Delica team. Its friendly face might help with that.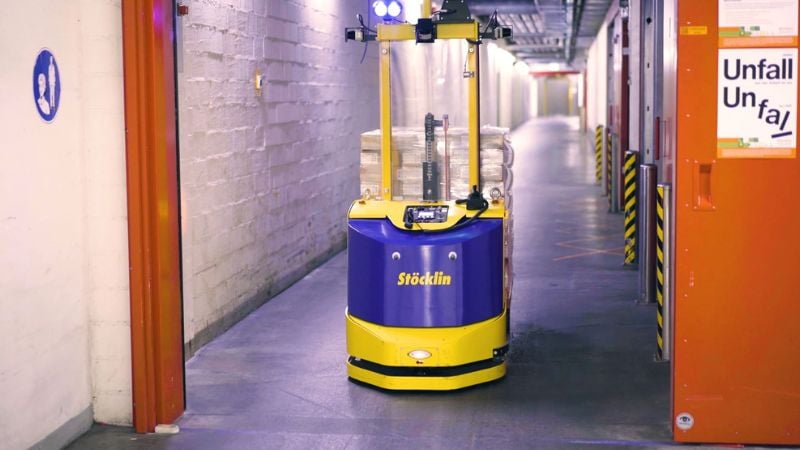 Baumann explains: "Getting the employees involved took a little time because it's something new, but the driverless transport system has actually been well received in the meantime."
But most importantly, is the work it does: taking on a particularly "dull" job frees up staff to work on more engaging parts of the production process. When talking about automation ROI, it's easy to focus on the material benefits of automated forklifts. One thing which may be overlooked is improved work environment and job satisfaction.
"It all runs fully automatically. And that's nice," concludes Baumann.